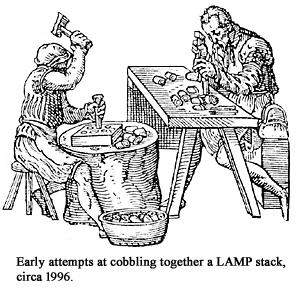 From its inception, Web Crafter has concentrated on converting the power of the Internet into customized solutions for its clients and partners. While others were blinded by the hype and hoopla of the dot-com boom, we never lost our vision of the Internet as a tool of communication.
We bring that same clear-headed focus to each business or organization we serve. We build web sites. We also provide web-based marketing expertise, ecommerce applications, and hosting services. However, we really like to think of ourselves as problem solvers.
The Internet is still a relatively new communications medium. Moreover, the technology pushing it forward continues to evolve at a relentless pace. Our job at Web Crafter is to help our clients and partners make sense of it all. We'll identify the tools and innovations that best fit your objectives. We'll enable you to develop a strategy that looks toward the future while addressing your day-to-day demands.
If you represent a small business (or even just a business idea), we're especially eager to talk with you. Increasingly, our emphasis has shifted toward building long-term partnerships rather than adding to our list of clients. In other words, we'd prefer to be part of your business, rather than part of your monthly expenses. That means you have the opportunity to harness the power of the Internet without paying the usual development and hosting fees. We're willing to share the risk inherent in any small business, if you're willing to share your vision with us.
As we said, we're not in the Internet business. We're in the problem-solving business. See what we can do for you.
Contact Web Crafter to learn more.